Face the Fear. Attack the Debt. Be Free.
Is debt overwhelming you, or are you overwhelming it?
If you think about it, the cover of this package could illustrate both scenarios – a life vulnerable to a mounting flood of debt, or a life rising above it toward a stronger financial position. Which best describes your current situation?
There's no denying that debt takes a toll on us financially, emotionally, relationally, and spiritually. That's why this study is so crucial! In less than two hours, the Eliminating Debt video study will help you create a plan to attack your debt and be free from the dangers of debt dependence.
Taught by Crown CEO Chuck Bentley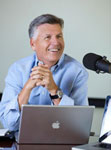 Chuck Bentley, CEO of Crown Financial Ministries and host of the MoneyLife™ radio broadcast, shares his encouraging thoughts on how you can meet your financial goals. Then David Scobey, Crown seminar instructor and financial coach, outlines the practical steps to achieving a debt-free lifestyle.
Main topics covered:
Five reasons why people dive too deep into debt
Steady, practical ways to eliminating debt
How to address special issues like credit scores, dealing with creditors, and bankruptcy